become a member
at Rosa Lëtzebuerg
HOW TO BECOME A MEMBER OF OUR ASSOCIATION ROSA LËTZEBUERG ASBL?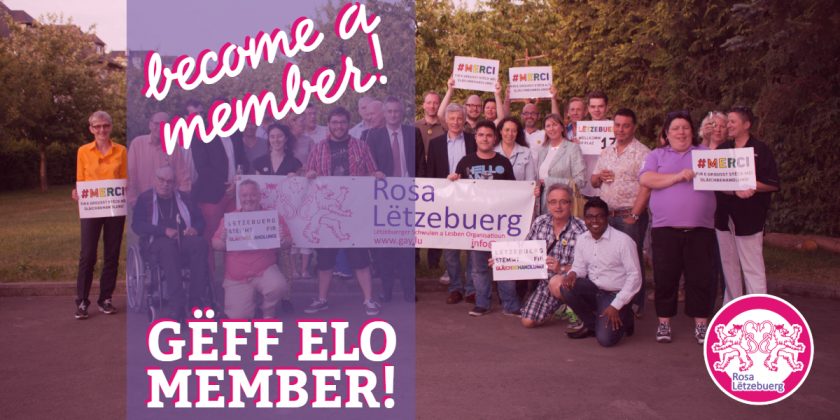 To become a member of the association and support us, send us your details (surname, first name, postal address, email address) by email to info@rosa-letzebuerg.lu or by filling in this web form.
The annual membership fee is:
Single rate: 20 Euro
Reduced rate: 10 Euro
Condition: Unemployed, student, Kulturpass-holder
Couple rate: 30 Euro
Condition: Couples living at the same address
By bank transfer:
Beneficiary: Rosa Lëtzebuerg asbl
BIC: BCEELULL
IBAN: LU27 0019 4355 3052 9000
By Paypal: paypal.me/RosaLetzebuerg
By Webshop: shop.queer.lu/de/10-rosa-letzebuerg
Once you are an active member of the association, you are entitled to : membership card valid for one calendar year (01.01-31.12) – discounts and other benefits depending on the events organised by the association.